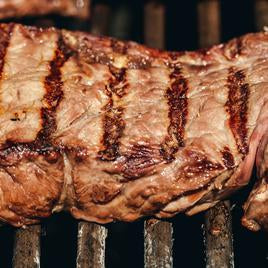 Beef Grillers Box Subscription
Free Shipping to the Northwest!
Indulge in the finest cuts of beef with our Grillers Box Subscription. Our grass fed, grain finished beef is incredibly flavorful and tender. Each box includes a variety of premium steaks, hand-selected for your enjoyment. Get the taste of quality with each delivery and never run out of delicious steak again. This is a meat subscription box taken to the next level.
If compromise isn't your thing, our $175.00 Beef Grillers Box Subscription is for you. It includes 11-13 pounds of Premium Steak, Ground Beef, and Premium Roasts including:
3 lbs Ground Beef

2-3 lbs Premium Steaks consisting of 1 or more of the following cuts: Tenderloin, NY Strip Steak, Rib-eye, Top Sirloin, etc.

3-4 lbs Roasts consisting of 1 of the following roasts: Tri-Tip, Sirloin Tip, Eye of Round Roast, etc.

2-3 lbs Specialty Cuts consisting of 1 or more of the following cuts: Ribs, Brisket, Flank Steak, Cube Steak, Stew Meat, etc.
This Beef Grillers Box Subscription will bring our natural beef to your doorstep on a delivery schedule you choose for a beef experience that is second to none.
Place your order online and then wait in the comfort of your home for your beef box delivery to happen!