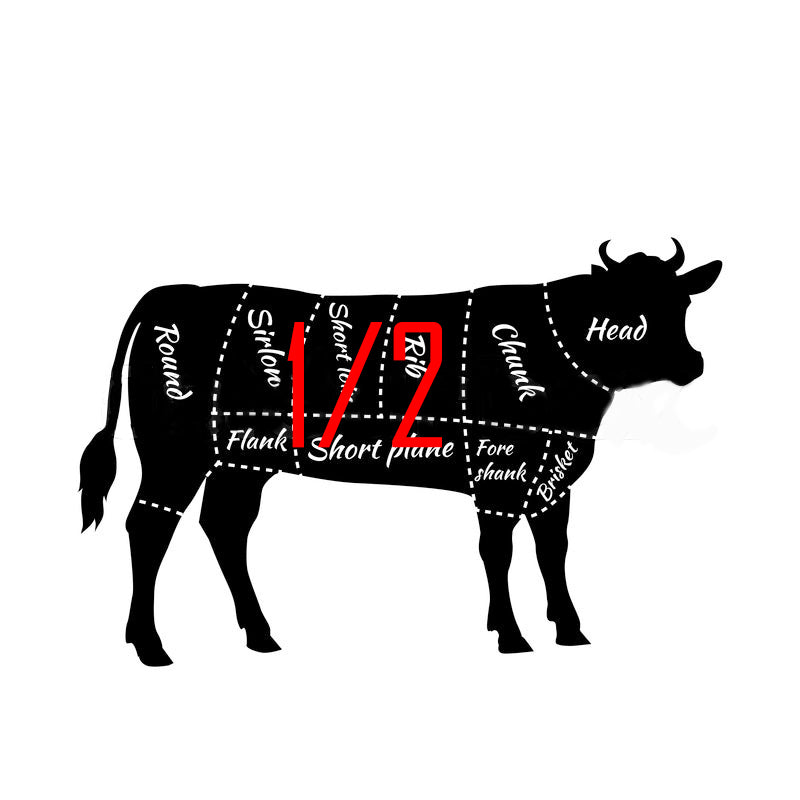 Reserve Your 1/2 Beef Gourmet Pack
Free Shipping
This order ships free right to your doorstep!
This is a deposit only to reserve your half beef. Total cost is between $2480.00 and $2790.00
To see our next available butcher date click HERE
A half beef will have a total cost of $2480 to $2790 and will yield between 220-260 pounds of beef. A half beef will generally use 8 cubic feet of freezer space. The price is an all included $6.20 per pound on the hanging weight with the average hanging weight being between 400 and 450 pounds.  
*Deposits are non-refundable.
Included Cuts:
*This list is based on an average hanging weight of 430 pounds. Your actual take home cuts will vary.
12 lb Top Sirloin steak
14 lb Prime Rib Roast
13 lb New York Steak
4 lb Tenderloin Roast
8 lb Sirloin Tip Roast
8 lb Flat iron Steak
2 lb Flank Steak
8 lb Top Round Roast
8 lb Bottom Round Roast
20 lb Chuck Roast
4 lb Tri-Tip Roast
4 lb Fajita Meat
12 lb Short Ribs
4 lb Brisket
6 lb Stew Meat
10 lb Cube Steak
2 lb Skirt Steak
110 lb Hamburger